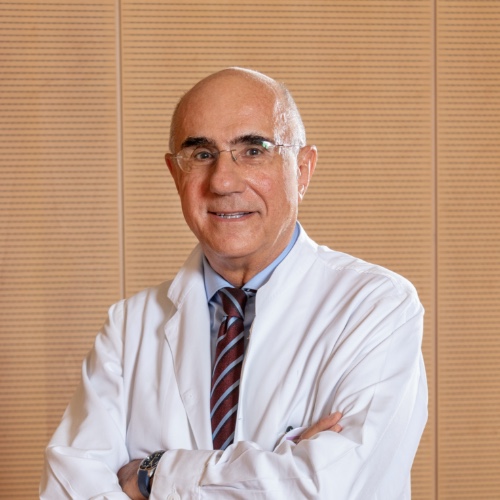 Associate Professor of Obstetrics & Gynecology at the Medical School of the University of Athens. He graduated from the Medical School of the University of Athens and he completed his residency in the 2nd Department of Obstetrics and Gynecology of the University of Athens in Aretaieio Hospital.
In 1977, he was appointed at the University of Athens and since then he was promoted to all grades of University hierarchy, Lecturer, Assistant Professor, Associate Professor. In 2001, he resigned from his position, 15 years prior to his retirement, so he would be able to dedicate his time completely to the very successful IVF Program which he managed.
From 1981 until 1984, he specialized in Assisted Reproduction at Eastern Virginia Medical School in Norfolk Virginia, USA under the supervision of Professors Howard Jones and his wife Georgeanna Jones, who held the position of professors in Gynecology and Gynecologic Endocrinology, respectively, for 25 years at John Hopkins University in Baltimore. There he was honored and privileged to be part of the team, under Howard Jones, that achieved the first IVF pregnancy and delivered the first IVF baby, Elizabeth Carr, in the USA.
In 1986, he founded the IVF Unit in "Mitera" Maternity Hospital. The first child from this program was born in 1987. In 1988, the first child was born in Greece with the use of a donor egg from a mother with premature menopause. In 1987, the first donor egg baby in Greece was born by his programme.  In 1989, he established the IVF Unit Euromedica. In 1997, he was the founder as well as the director of the IVF Unit in Aretaieio Hospital. In 2001, after reaching the pivotal point of 2000 births occurring from the IVF program, he was awarded the Gold Metal of the City of Athens from the city's Mayor for his contribution to Science and Humanity. In 2008 he was the co-founder of "Embryoland" IVF Center.
In 2004 he was elected President of the Hellenic Society of Physicians of Assisted Reproduction, a position he still holds. In 2006, he became a member of the Greek Independent National Committee for Assisted Reproduction, until 2010. In 2007, he was elected member of the Board of Directors of Jones Institute Foundation in Reproductive Medicine, a position he still holds.
As a result of his research, Prof. T. Mantzavinos and his collaborators have published and presented 360 scientific papers in International and Greek Journals as well as International and Greek Medical Conferences.
The result of all of the years of his Clinical activity in Reproduction is the birth of more than 5,000 children.